Milk has been a part of the human diet for thousands of years. We drink it raw and make delicious dairy products as well as various dishes with it. In short, we love milk! However, it seems like we keep trying to come up with ways to somehow change its qualities while maintaining its natural liquid state. We are afraid of harmful bacteria, so we pasteurize it. We are afraid it is too fatty, so we skim it. Both of these alterations are easy to understand since we realize their purpose.
But then we have homogenized milk. In fact, all the milk we buy in supermarkets is homogenized. So what does the process entail and why is it done? In this article, we will discuss what homogenization is, its purpose and its pros and cons.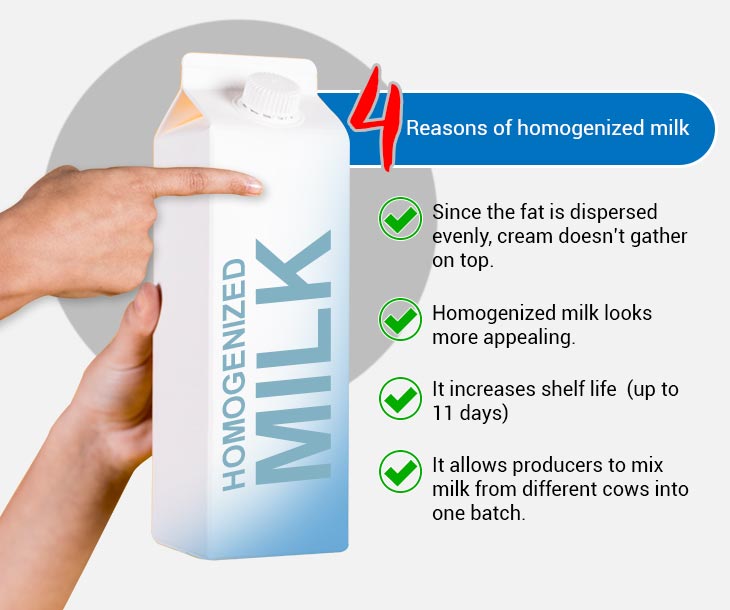 What does homogenized milk mean?
Homogenization is the process during which milk is squirted through a special machine under very high pressure. This breaks up fat particles and makes them small enough to disperse through the milk evenly.
Milk is homogenized for four reasons:
Since the fat is dispersed evenly, cream doesn't gather on top.
Homogenized milk looks more appealing.
Its shelf life increases (up to 11 days).
Homogenization allows producers to mix milk from different cows into one batch.
Considering that last point, it's clear that this process is crucial for large manufacturers. That's why all commercial milk you see in supermarkets is homogenized.
This is a relatively new development, though. French inventor Auguste Gaulin came up with homogenization at the end of the 20th century. His emulsifying machine got its patent in 1899. Over time, new machines were created, and each of them was able to make particles even smaller and consume even less energy.
Despite the creators being able to produce excellent machines, consumers didn't believe homogenized milk was good. Up until the 1920s, it wasn't popular among buyers. Sellers began trying to convince people that homogenized milk was easier to digest. Eventually, marketing did its job and consumers believed that milk processed this way was better for their digestion.
Today, most consumers don't even pay attention to whether milk is homogenized or not. We're used to seeing it as the white uniform liquid that stays this way for a long time.
How is milk homogenized?
This process is completed in two stages. First, the milk is squeezed with the machine through small pores or tubes. As the pressure rises due to the small diameter of the holes and constant flow of milk, the fat particles begin breaking apart. Obviously, the higher the pressure, the smaller the particles. Typically, 2,000-3,000 pounds per square inch is applied to milk. With that said, some emulsifying machines can apply upwards of 14,500 psi of pressure.
When the fat particles get smaller, they begin to reassemble. In doing so, they capture casein and whey in their walls — and some are totally surrounded by protein. That's why they tend to clump. So the second stage of homogenization is breaking up these clumps and ensuring that the particles stay evenly distributed throughout the milk.
Usually, homogenization comes after pasteurization. While it's not necessary for homogenized milk to be pasteurized and vice versa, most commercial brands make their milk undergo both processes. So you can be sure that store-bought milk is both pasteurized and homogenized.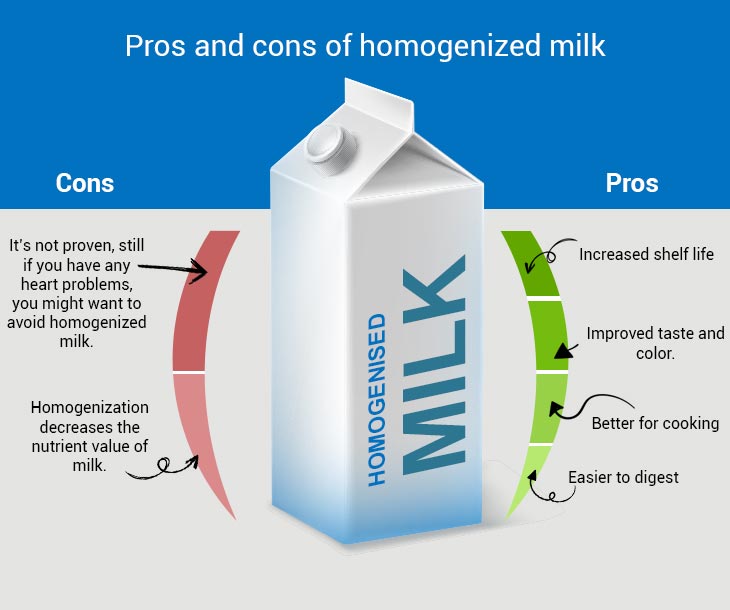 Pros and cons of homogenization
There are very clear advantages to homogenization:
Increased shelf life. Homogenized milk can stay fresh for up to 11 days even if it's not pasteurized. The cream that otherwise gathers on top makes the drink spoil faster. Since homogenized milk doesn't develop this layer of fat, it can stay fresh for longer.
If you want to make your whole milk lask longer without homogenization, you can pasteurize it. We offer a wide range of pasteurizers of different capacities suitable both for pasteurization at home and usage on small and medium farms. If you need any help with choosing the right machine, just drop us a line and we will help you out! https://milkyday.com/products/milk-pasteurizers
Improved taste and color. Homogenization makes milk look whiter and more even. And thanks to the unified structure, the taste gets unified as well. It appears creamier and smoother.
Better for cooking. Smaller fat particles result in lower chances that milk will be divided into fat and protein when you try to cook with it.
There is a belief that homogenized milk is easier to digest. However, blind tests have shown that people respond the same way to non-homogenized and processed milk.
One of the benefits of non-homogenized milk is simply that we know how the human body responds to it because we consumed unprocessed milk for millennia. Thus, here are the cons of homogenization:
There is a theory that homogenized milk can cause heart issues since the body absorbs smaller fat particles faster. But that hasn't been proven by science yet. Still, if you have any heart problems, you might want to avoid homogenized milk.
Overall, it's better to drink low-fat milk if you have heart and vessels issues. You can skim your milk using a cream separator. We offer such machines for home and farm use — you can pick the one you need for the amount of milk you want to process. https://milkyday.com/products/cream-separators
Homogenization decreases the nutrient value of milk. This process breaks down all particles — not just fat. Therefore, milk's nutritional value becomes less significant.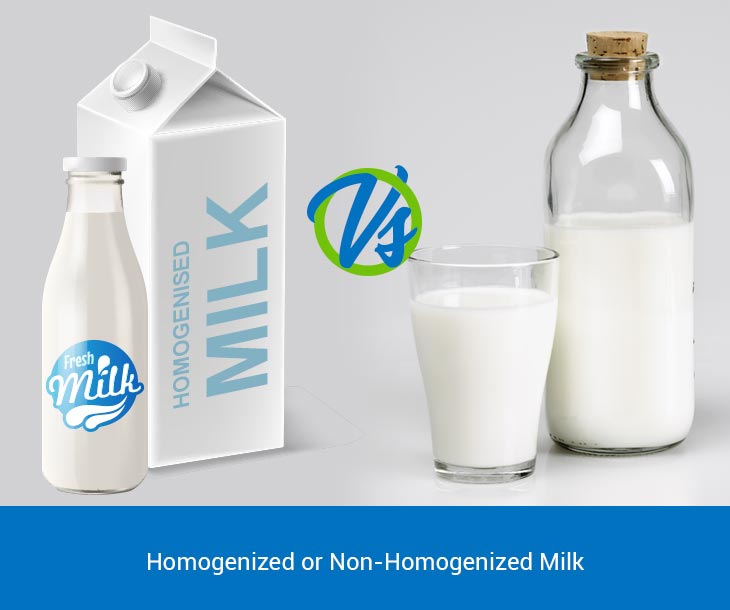 Homogenized or non-homogenized milk?
So, what's better? As you can see, homogenization doesn't have that many downsides. Also, it's not as crucial as pasteurization is. While it's mandatory in many countries for dairy companies to pasteurize their milk in order to make it safer for customers, there is no such rule for homogenization. This process merely improves the taste and appearance of the product. Of course, large farms and manufacturers prefer this method because it allows them to mix milk from all their cows into a whole uniform product.
Small dairy farms can avoid this step if they want. Sure, if you want to slightly increase your milk's shelf life while keeping it unpasteurized, you can homogenize it. Also, if you have several cows and want their milk to look more appealing and uniform, homogenization will help in that regard. However, it's absolutely not crucial and you can leave milk in its natural state if your customers are satisfied with your products.