Actually, it's very easy. To do this you will need to have two ingredients: first of all, a natural fresh yogurt and cream. Besides, please make sure that you also have a glass jug with a lid, a coffee filter or a dense sterile fabric and an elastic band as well.
Do you have everything in stock? Great! Let's begin …
1. First, the cream needs to be pasteurized so yogurt bacteria could grow freely inside. To do this, heat the cream up to 145° F and hold it at such temperature for 45 minutes. This amount of time should be enough.
Professional tip: If you are going to pasteurizer cream or other dairy products regularly and in big quantities, I recommend to use milk pasteurizer. This machine will dramatically save your time. To learn more about milk pasteurizers follow this link.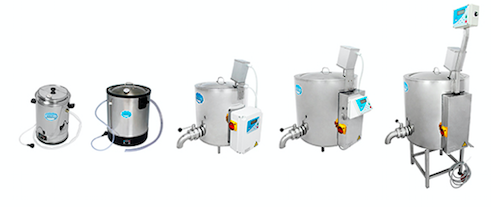 2. After 45 minutes, cool the cream down to 77° F. This is the ideal temperature for the bacteria growth which is producing a yogurt.
3. Add the natural yoghurt into the prepared cream and gently stir it well.Observe the following proportion: 1 tablespoon of yogurt per 1 glass of cream.
4. Place the mix you got in a glass jar, cover it with a coffee filter or a dense sterile cloth and secure it with an elastic band.
5. Place the jug in a warm place at a temperature of 74°-77° F and leave the sour cream to ripen for 16-18 hours.
6. Once the sour cream is ripe, close the jug with a dense lid and place it in the fridge.
7. Yoghurt-based sour cream is ready now! Please keep in mind the life shelf of sour cream is 2-3 weeks in refrigerator.
That's it. Now you know how to make sour cream with yogurt! Not so complicated, huh? I really hope it will be useful for you. By the way, you can make a sour cream not only with the help of yogurt. You can also use the following:
– dairy culture
– kefir grains
– buttermilk
Click on any of active recipes if you want to learn more about it. And if not, I was really happy to see you. Until next time, guys!