You no longer have to worry about the quality of stored milk, cheese or yoghurt. With mini milk pasteurizer, you can make pasteurized milk, cheese and yoghurt at home. So many features in such a small boiler! Milky FJ 15 is a multi-purpose device for pasteurisation, cheese and yoghurt production offered at the best price!
Milky FJ 15 is the smallest pasteurizer in the Milky Day store, which makes it highly useful, space effective and energy saving at the same time! It's hard to imagine a better solution for a small dairy farm, but it can be a great fit for any kitchen as well!
With this device, you can take full control over pasteurisation, cheese or yoghurt production process, and adjust production time according to your specific needs.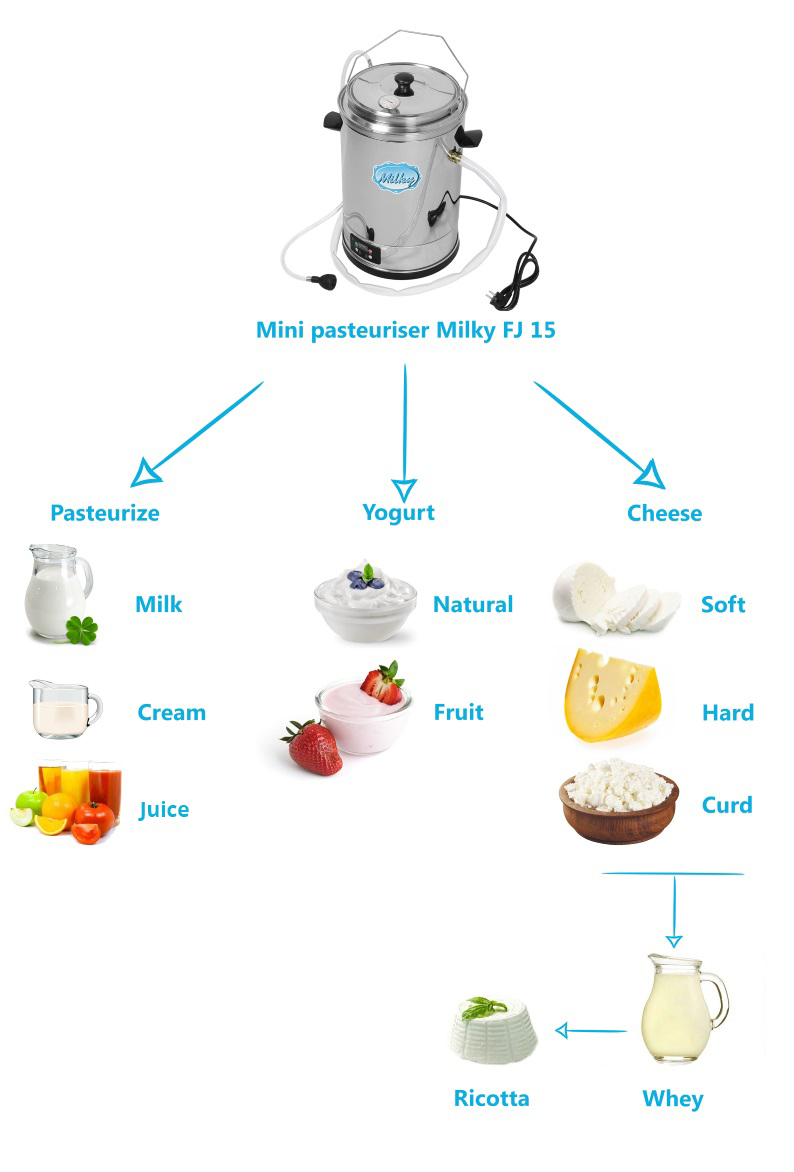 Produce pasteurized milk, cream, juice, natural yoghurt with fruit; use Milky FJ 15 for cheesemaking. You can make soft cheese, Mozzarella cheese, hard cheese and curd. Read our full cheese classification guide!
Here's why Milky FJ 15 is the best milk pasteurizer for small dairy farmers and households:
Perfect device for milk pasteurisation, processing fruit juice, preparing yoghurt, and cheese making;
Both external and liquid containers are made of rustproof steel;
Removable container which is easy to clean;;
Super strong heating element which can be warmed up to 91°C in just 1 ¼ hours;
15 liters capacity – which is an ideal size for family farms and private households;
Milky FJ 15 is offered on Milky Day in 2 modifications optimized for different power supply modes:
115V – https://milkyday.com/products/pasteurizers/fj_15_115V
230V – https://milkyday.com/products/pasteurizers/fj_15_230V
You can buy this milk pasteurizer on MilkyDay.com
Visit our store to find more milk pasteurizers: https://milkyday.com/products/pasteurizers
Follow our blog for useful dairy recipes and news about our products: https://milkyday.com/blog/
Connect with Milky Day on social networks:
Follow us on Twitter: https://twitter.com/MilkyDay_com
Like our Facebook fan page: https://www.facebook.com/milkyday.official
Get our updates on Google Plus: https://plus.google.com/+Milkyday_com
Join us on Instagram: https://instagram.com/milkyday_food/
Subscribe on YouTube: https://www.youtube.com/channel/UCUw105K68FjbXD_EkV9nDbw/videos